Commonwealth Park - Exhibition Centre (Near car park), Canberra.
SAT-SUN 1:00pm-2:00pm
Contacts: Ron (02) 6288 2396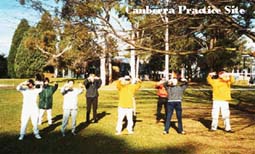 nsw
New South Wales

For specific site contact details in NSW please call: Owen 02 7911 3289, or email editor@falunau.org


South-Eastern Districts





Campsie


Anzac Square
SAT, SUN 6:00am-8:00am
Contacts: Lily Chew



Hurstville 1


Hurstville station, Forest Road, Hurstville
MON-SUN 6:20am-9:00am
Mr. Hu



Riverwood


Wetlands Park (Next to the Riverwood Community Centre)

SUN 9:00am-10:00am
Jessie falundafa.unsw@gmail.com

Western Districts



Cabramatta


Cabra-Vale park, corner of Bartley St & Park Rd
SUN 8:00am-10:00am



Bankstown


Stevens Reserve, 170 Stacey St, Bankstown
FRI 7:00am-8:00am



Padstow


Front of Padstown Library
MON-SUN 6:20am-7:20am

Parramatta
Outside of Parramatta Town Hall, 182 Church Street, Parramatta
SUN 7:20am-10:10am
Zeng Li

Northern Districts



Chatswood


409 Victoria Ave Chatswood (in front of Chatswood Library)
MON-SUN 6:30am-8:30am
Ms. Ying



Dee Why


Dee Why Beach
SUN 8:00am-10:00am
Steve (English speaking)



Eastwood


Eastwood Park, Lakeside Rd, near Eastwood Library
MON-SUN 6:00am-8:00am

Central Sydney



Burwood


Burwood Park, opposite 78 Burwood Rd.
MON-SUN 7:00am-9:00am
Contact: Kitty



Redfern


Refern Park (near the fountain)
MON-SUN 8:30am-9:30am (Chinese speaking)




Ultimo / Glebe


Wentworth Park, Corner of Wattle St and Bridge Rd.
SAT-SUN 11:00am-1:00pm




Regional NSW (outside of Sydney)





Bathurst


Machattie park (nearby the main entrance, George Street)
Please call for details
Suhan 0424 865 020



Bowral


Corbett Gardens
SUN 9:30am
Jonathan



Campbelltown


Koshigaya Park
SAT 11:00am-12:00noon
Charlie



Mittagong


Lake Alexander
MON-SAT 6:00am-7:30am
Jonathan



Orange


Cook Park, Robertson Park
Please call to confirm
Yan 0423 013 803



Wollongong


Stuart Park, North Wollongong (Near the Skydive)
SAT 8:00am-10:30am
Contact: editor@falunau.org



Yass


Riverbank Park
Saturday 10:00am-11:00am
Contact: Daniel admin@folklounge.org



A sydney practice site

Queensland



Brisbane


William (07) 3209 5061
Laurel (07) 3806 1060

Forest Lake
The Lake Parklands
opp 200 Forest Lake Blvd at rectangular "Pagoda"
Sunday 3:30pm-5:30pm

Loganholme
Tudor Park, near children's play area
83-125 Clarks Rd
Mon, Tue, Wed, Thurs 5-7am (6-8am Winter)

Macgregor
DM Henderson Park, at Pagoda
Daily (7 days) 5.50am-7.50am

New Farm
New Farm Park, near Pagoda
Sunday 9:00am-11:00am

Redcliffe
Rotary Park, near children's playground, 186 Redcliffe Parade
Sunday from 10am

South Bank
Near The Wheel of Brisbane
Sat and Sun 8:15am-10:15am (also public holidays)

Laurel & John (07) 3806 1060




Gold Coast


Louise (07) 5579 9794

Broadbeach
Pratten Park, 177 Old Burleigh Road (opposite Anne Ave)
Sat and Sun 8:15am – 10:15am

Labrador
Harley Park, 371 Marine Parade (near rotunda and children's playground)
Sat 6:55am - 8:55am




North Queensland



Cairns
Esplanade, Muddy's Event Lawn
Friday 4:30pm to 6:30pm
Julie-Anne (07) 4000 7466

Mackay
Botanic Gardens
Saturday 9.00am-11:00am
Catherine (07) 4952 2262





Sunshine Coast



Maleny
Bicentennial Park
Saturday 9:00am-10:30am
James or Ying (07) 5494 4189




Other Areas



Toowoomba
Yan (07) 4564 9636

contact us for further details
sa
South Australia
Adelaide
Victoria Square(near tram stop)
SAT 9:15am-11:00am
Enfield
Enfield Community Centre
540 Regency Rd.
TUE 7:00pm-8:30pm
Daphne (08) 8379 6248
Goodwood
Goodwood Community Centre
32-34 Rosa St.
SUN 10:30am-12:00noon,
Sheau May (08) 8379 6248
Thebarton Community Centre
(car park entrance via South Road)
Corner of South Road and Ashwin Parade, Torrensville
THUR 7:00pm-8:30pm
Brian/Barb (08) 8381 5340
tas
Tasmania
Hobart

Bernard Lam (03) 6247 6850

vic
Victoria

Box Hill
Box Hill Gardens (Nearby the pond)
SAT-SUN 8:50am-11:10am
MON-SUN 6:20am-9:10am
Contact: Ms Liu 0406 214 789 or Ester (03) 9899 7870 (English)

Beaumaris
The park between the Concourse & Reserve Rd (south con end)
Sat 9:00am-10:30am
Contact Jan: 0409 872 640 or Jansin: 0428 449 796

Ballarat
Botanical Gardens near Lake Wendouree
1st Saturday of the month, 10:30am
Contact: Emma 0455 528 733

Camberwell
Riversdale Park.
Tues 10am–12noon
Contact: Yanti 0420 456 047

Carnegie
Carnegie Park, Carnegie.
Every Sunday 10:00am-12:00noon
Contact: Ha Pham 0474 524 041

Dandenong
Dandenong Park
SUN 9:00am-11:10am,
Contact: Pauline: (03) 8753 2246 or 0422 595 882

Frankston
Frankston Foreshore next to Pier
MON 7pm
Contact: Patrick 0408 105 798

East Melbourne
Fitzroy Gardens
SAT-SUN 9:30am-11:30am
Contact: Henry 0421 138 610

Preston
On the lawn outside Preston Library, 266 Gower Street, Preston
SAT 10:00am-12:00noon
Contact: Alan 0431 697 320

Springvale
Springvale Primary School Springvale Rd
SAT 9:00am-11:10am
Contact: Pauline (03) 8753 2246 or 0422 595 882

St. Albans
Errington Reserve. 309A Main Road East, St Albans, VIC 3021

SAT 8:00am-10:00am
Jane (03) 8596 8173



Warrandyte
Off Yarra St, next to the river. Enter via Webb st carpark and walk left towards the lawn.
Tues 9:30am
Sat & Sun 10:30am–12:30pm (weather permitting)
Contact Trisha: 0408 369 078

Wheelers Hill
Jells Park (near Madeline Cafe)
Sat & Sun 8:00am-10:00am (Zou Lan) 0435 991 425



Group practices in Western Australia are mostly held in the morning at weekends. Regular classes are held in the locations below:

Albany
Please contact Susan 0428316692

Como
Neil McDougall Park (Crn of McDougall St and Clydesdale St)
Saturday mornings (6:45am - 8am)
Contact: Albert 0456673311

Coogee
Socrates Parade
Saturday mornings
Contact: Karen 0448086944

Fremantle
South Beach Park
Contact: Eirini 0415875162

Karrinyup
Lake Gwelup Reserve, Gwelup
Saturday mornings from 6:15am
Contact: Sam 0417260871

Perth/Mt Lawley
Hyde Park (water playground area)
Saturday mornings 7am-8am
Contact: Daniel 0432584865

Rockingham
Churchill Park, Rockingham Beach
Saturday mornings
Contact: John 0405507467

For inquiries about Falun Gong in Western Australia, please send an email to falungongwa@4new.org.
Beginners are welcome to the Monday evening classes from 5:30pm to 6:30pm in the Riverton Library (except for public holidays). Please contact Albert on 0456673311 before your first attendance.